<!- navigation -!> <!- navigation ends -!>



A Day of Guns and Song

Deerfield, Illinois - The National Rifle Association Christian Bible Choir, on April 22, sponsored a family-oriented day of guns and song. Family oriented festivities included free shooting ranges, a family picnic, and a lunch time speech by National Rifle Association Vice President Charlton Heston. Heston was available throughout the afternoon and evening, signing autographs, firing rounds at the free shooting ranges, mingling with the people, and singing the Lord's praise.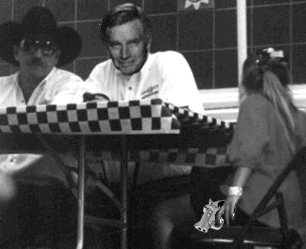 "There should be more of these," Heston said as he let off a few rounds. "When I walk around here, I see families brought together in loving unity over patriotic sentiment and skilled marksmanship."
"I was so excited to meet Charlton," said Joan Gemke, mother of three. "I so admire his Biblical work, and he has great aim with a .22 rifle."
---
copyright 1997-1999 by online@choir.faithweb.com