<!- navigation -!>
| | | | | |
| --- | --- | --- | --- | --- |
| <!A HREF="./index.html"><!/A> | | | | |
<!- navigation ends -!>



The New England Christian Resort Enjoys a Great Start

Swanton, Vermont - The National Rifle Association Christian Bible Choir, together with the Holiday Inn chain of hotels, opened the doors of a new country resort on the Fourth of July, 1999. "These past two months have seen tremendous business," said manager Ted Wilkins. "We've had many guest come to enjoy the country, shoot game, and praise the Lord and his natural wonders."

The New England Christian Resort, featuring colonial stylings, fourteen acres of hunting land, two chapels and a pool, opened its doors over the weekend. In the two months since its opening, hundreds of visitors have moved through the grounds.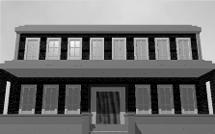 "We have conference space available, an Olympic-class shooting range, and game hunting of every variety you can imagine. In fall, when the birds move through, we have a heated pond to entice them. We stock our private forest with deer too."
The New England Christian Resort was also the home of this year's NRA Playoffs. "Because of contract problems, the Playoff round was delayed," said Germaine Jenson, a long-time participant. "Some of these newcomers read the contract and just don't think that a ranking prize pays enough. We've seen a decline in participation these past couple years. People are starting to only look at the money and not so much at the shooting. This is an event about shooting things, not about making money. But bringing the Finals out here to this resort really increased participation. I think a lot of people enjoy the atmosphere."
Morning and evening prayer sessions are offered daily. Two chapels offer services, one at the administration office and another at the shooting range. "This is definitely a resort aimed at providing the greatest of convenience for the Christian hunter. You can get up early, pick a spot at the range, warm up, do your prayers and get to hunting right away. You can stay out all day because you don't have to worry about coming back to pray," Wilkins added. "It's a lot of fun and a great way to get out of this city."
---
copyright 1997-1999 by online@choir.faithweb.com