<!- navigation -!> <!- navigation ends -!>



Mariah Carey to Bring Some Soul to the Choir

Austin, Texas - In an exclusive deal with Sony Music Entertainment, the National Rifle Association Christian Bible Choir has secured exclusive rights for Mariah Carey performances during the 2000-2001 concert season. Mariah Carey will tour Choir chapters, singing various psalms, hymns, and traditional prayers.

"This is a very important deal for us," said Choir President Joseph Brown. "Mariah Carey will breath some soul into Choir meetings. We plan to bring in the new millennium with awe-inspiring modern renditions of traditional choir numbers. We are planning a Choir season that only a magnificent vocalist like Mariah Carey will be able to provide."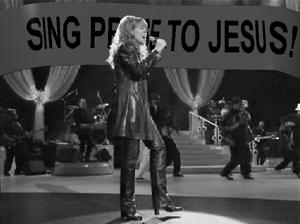 In February, 2000, Mariah Carey will begin her tour in Austin, Texas. From there, she will move east to South Carolina, up the coast to New York, across the midwest to Seattle, Washington and finally south to San Francisco, California. "It is a very demanding schedule," said program director Alice Carson. "The payoff," she continued, "should be tremendous." In cities where Mariah Carey is scheduled to perform, Choir concerts will be held on Saturday nights, while Mariah Carey concerts will be Friday nights. Carson cited the public's interest in modern performers like Mariah Carey as a way to attract more Christians to the Choir.
At the May Choir concert in Austin, Texas, Mariah Carey offered a sneak preview performance. "This was just a glimpse of things to come," commented Carson. Mariah Carey sang a total of nine songs, from "Hosanna in the Highest" to "Lamb of God" and the twenty-fourth psalm.
"Her backup band was in peak condition," said concert-goer Dennis Nentry. "It was simply amazing to hear the Lord praised by such a sweet voice."
---
copyright 1997-1999 by online@choir.faithweb.com