<!- navigation -!> <!- navigation ends -!>



Strom Thurmond Joins NRA-CBC

Charelston, South Carolina - The Honorable Strom Thurmond, US Senator from South Carolina since 1954, has joined the National Rifle Association Christian Bible Choir. Answering questions from reporters at a routine press conference, Mr. Thurmond had this to say about his membership: "Well, I love singing, I love guns, and man alive I love Jesus!"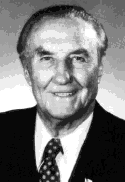 Later, Senator Thurmond was contacted by phone about his membership. "Well," he said, "it's taken my 95 years, but I've joined and I love it. You know this is a wonderful organization for the sharing of love, brothership, and good-old Christian sentiments. I can remember back in 1925 when we were defending the Alamo from the Russians, my bunk-buddy was a National Rifle Association Christian Bible Choir member. He never stopped trying to recruit me. Even as the Russians closed in around us, shrapnel shreeding the walls, my buddy whispered to me, 'It's never to late to join.' Well, being a US Senator and all, I've not had much time. You know, dealing with budgets, dim-wit voters and those damn blacks in the inner cities takes a lot of time. But now I've found the time, and damn-skippy am I glad. And I'll see you Sunday at choir!"
Senator Thurmond sings in the tenor section of the Choir. "It's great!" he added. "Great!" The congregation, for the two weeks since Senator Thurmand has joined the choir, has voted Mr. Thurmand Choir member of the week. "It's great!" Mr. Thrumand said of the title. "I'm honored."
Frank Yankovic, president of the South Carolina branch of the NRA-CBC said that he was honored to work with Mr. Thurmond. "Although his mental facilities have been failing lately and I'm quite sure the man is a bigot, I've voted for him my whole life. Now I get to sing with him and I've never been more proud."
---
copyright 1997-1999 by online@choir.faithweb.com