<!- navigation -!> <!- navigation ends -!>



Discussions Begin for Christian Patriot's Network

New York, New York - Talks began recently investigating the possibility of a television station devoted entirely to Christian Patriots. The proposed network, the Christian Patriot's Network, will be devoted to the worship of Jesus and topics of interest to patriots, including the American flag and firearms. 700 Club star and presidential candidate Pat Robertson, at the request of the National Rifle Association Christian Bible Choir, opened discussions with media heavyweight Ted Turner. Pat Robertson, seeking to expand his Christian Broadcasting Network, commented that "the worship of Jesus does not have any centralized and readily accessible forum in this country. Just as a presidential candidate cannot hope to win office without airtime, the Word of the Lord cannot win the hearts and minds of Americans without an exclusive televisions forum."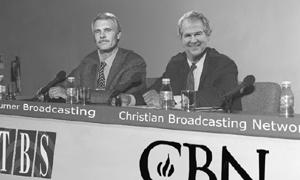 The National Rifle Association Christian Bible Choir, appealing to Pat Robertson's patriotic side, proposed the CPN as a forum for all Americans who love their country and their God. Ted Turner was suggested as an ideal source for funding because of his influence, wealth, philanthropy and because he is not affiliated with Disney in any way.
At a joint press conference, Ted Turner and Pat Robertson announced and discussed their plans. "There are enough television networks around that pander to the dirty minds of small men. Pat and I have the idea, the will, and the way to make a television network dedicated to quality programming."
The proposed CPN would feature programming to promote American ideals and Christian morals. National Rifle Association Christian Bible Choir President Joseph Brown, who made the opening statements at the press conference, later said, "Americans will now have the opportunity to see the Lord's work in action, here. Americans can see that the American people, one people, under God, have a right to worship and to shoot their firearms. This is truly a momentous day in American history, where two great American ideals have come together to produce an offspring that is truly greater than either parent. We will have firearms, and we will have Jesus. This is a great day indeed."
---
copyright 1997-1999 by online@choir.faithweb.com